How-Low-Hello is a popular band whose lead vocalist is Yusa Nishimori. They are also known as "Haro-Haro", and Yusa is often called by her nickname, Yusarin.
How-Low-Hello first appeared in I Think About Others. When Yū and Yumi were in the pancake café, Yumi recognized that the music played there is one of How-Low-Hello songs. Yū had never heard of the band before, which confused Yumi because Haro-haro was extremely popular with male students. Later, on the scene where Yū and Ayumi had a dinner there is a near TV which showed How-Low-Hello perform a song titled「Keep on Burnin'」. Yū then learned that "Haro-Haro" is really popular, and that Ayumi was also a fan of Yusa.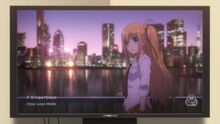 In the third episode,
Nao
,
Jōjirō
, and Yū were searching for someone who also had special ability, which turned out to be Yusa, the lead vocalist of How-Low-Hello. Jōjirō immediately admitted that he was a big fan of her at first sight, and that had all the How-Low-Hello CDs. Later on the episode appeared a scene where Ayumi watched the music video of How-Low-Hello song :「
Singer Days
」.
The ending themes for Love and Flame and Moment of Earnest featured the How-Low-Hello song 「楽園まで 」(Rakuen Made).
Anime Insert Songs
Edit
Single / Album
Edit
How-Low-Hello 1st single : 「楽園まで / 発熱デイズ」(Rakuen Made/Hatsunetsu Days) released on September 2, 2015.
Tracklist
楽園まで
発熱デイズ
Not be found
How-Low-Hello 1st album : 「Smells Like Tea, Espresso」 released on September 30, 2015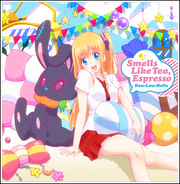 Tracklist
発熱デイズ
Real
シンガーデイズ
Keep on Burnin'
走れ
Dancin' on the Border
魅惑のビーム
Hand with Blood
楽園まで
旅人
Bravely You(How-Low-Hello Ver.)
灼け落ちない翼(How-Low-Hello Ver.)
Ad blocker interference detected!
Wikia is a free-to-use site that makes money from advertising. We have a modified experience for viewers using ad blockers

Wikia is not accessible if you've made further modifications. Remove the custom ad blocker rule(s) and the page will load as expected.